"Drawn from the Past"
The exhibition entitled "Drawn from the Past" seeks to promote the ancient art forms in a modern fast-paced world. Employing ancient techniques or working on equipment modelled on that used in by-gone eras the artists have produced an array of work in different media.

Using the wet fibre technique the works of Jutta Faulds are complex featuring a variety of manipulations including dying, cutting, layering, embroidery and the addition of found objects. Jutta is a member of Fibreworks and has exhibited her work internationally and nationally. Joining Jutta are Midlands spinners Clare Smith and Wendy Bly who have mastered the art of turning wool into yarn on spinning wheels and spindles and lace maker Anne Macdonald.

The wood artists on exhibition include new works by Heidi Snyman, Debbie Jewitt, Clyde Neumann, Winston French, Tony Matchett, Fred Wright, Dave Knight and Marcus Kruger. While the pieces were produced on power lathes the turning techniques pre-date the Egyptians. The synergy between the turning and the fibre art is showcased in the spinning wheel, lace bobbins, yarn bowls, shawl pins, spindles and wool-winders.

On display is a treadle lathe manufactured in beech by Marcus Kruger, based on designs dating back to the 17th Century and the lathe manufactured by Texan Chester Knight. The design incorporates clean and subtle curves while being lightweight and portable.

The exhibition takes a giant leap from the ancient to the modern in the form of the beautifully executed and finished laser cut wooden handbags of Kevin Ellis.

Vegetarian and vegan refreshments will be available.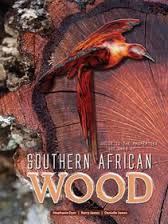 We also have a book on sale, 'Guide to the properties and uses of South African Wood' by Stephanie Dyer, Barry James and Danielle James (R450.00). Available in English and Afrikaans. Work by many of the exhibitors at the gallery is featured in the book.
The exhibition closes SUNDAY 29th July 2018.

Gallery Opening times: Friday to Sunday and Public Holidays 09:00 to 17:00 or by prior booked appointment.
Address: 19 Sutton Road Winterskloof Hilton
Contact: info@arushadesigns.co.za
Tel: 0785224607 / 033 3431850
Note: Children, under the supervision of an adult, are welcome to attend.